| | |
| --- | --- |
| | |
| | Photo Gallery |
| | Ayurveda |
| | Tours |
| | Reservation&Tariff |
| | Contact |
| | Accommodation |
| | About Kovalam |
| | facillities |
| | You are visitor no: |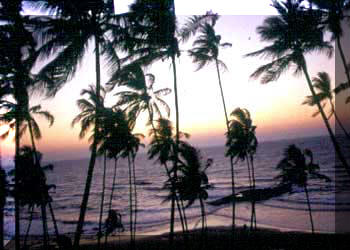 Among the many other attractions here are the water sports surfing, skiing and kayaking, a theatre that stages traditional Kathakali and the sunbathe in the exotic tropical sun which provides you with a good suntan. The coast is at many places lined with beautiful patches of coral reefs.

You can walk into the sea for about 100-m without losing ground and you can crest the waves on logs of lashed woods or catamarans.
| | |
| --- | --- |
| You can even go inland for a backwater cruise to the beautiful lush green countryside in country boats. | kovalam - the beautiful, curving, palm-fringed beach of golden sands and the blue expanse of sea has been the pride of Kerala since the 1930s. It has over the years grown into an internationally renowned tourist center. It first came into the limelight during the 1930s and was then patronized by the Maharaja of Travancore. During your stay with us we make sure that each our guests will be treated as a Maharaja or Maharani, |
At present, majority of the thousands of tourists who visit Kerala have Kovalam as their prime destination. The local people of the area are sensitive to the demands of the tourists. The people speak Malayalam, English, Hindi and Tamil and communication is not a serious problem.

Kovalam consists of three adjacent crescent beaches. The southernmost, known as the Lighthouse Beach is the most popular of the three. Kovalam is a natural bay and is free from high waves and surges.


Climate Tropical climate, generally dry. There is abundant rainfall during the two monsoon periods. There is minimum temperature variation across the year. The months from April to October are the hottest and December and January are the coolest.

The scenic natural beauty, Ayurvedic massage centers, yoga centers, water sports facilities and cultural programs make Kovalam a popular tourist haven for visitors from around the globe and from other parts of India. So do experience it all with Bakers Resort.

The Light house beach
Location 16 km from Thiruvananthapuram, the capital of Kerala, south-west India

Season Throughout, the best time is from September to May
Summer - March to May
South West Monsoon - June to August
North East Monsoon - late October to early December
Spring - December to February
Clothing Light clothes and beachwear are best suited for the tropical climate of Kerala.

Temperature
Mean maximum: 36.2 C (summer)
Mean minimum: 20.6 C (summer)
Mean maximum: 35.0 C (winter)
Mean minimum: 18.0 C (winter)

International dialing code +91-471-

bakersresort@hotmail.com
[ Rejuvenate your body and soul. ]
The resort consists of 22 double bedrooms including 7 suits and is classified as resort.
| Home | Photo Gallery | Ayurveda | Tours | Reservation&Tariff | Contact | Accommodation | About Kovalam | facilities |
ęCopyright Bakers Resort 2004. All rights reserved.
To Access Reprinting rights please contact the site administrator at administrator@bakersresort.tk .