NAVARAKIZHI
This rejuvenating treatment invigorates the body and mind in 7 days.
OTHER
TREATMENTS
MEDICATED STEAM BATH At first the body is massaged thoroughly with medicated oil. Then certain precious herbal leaves and herbs are boiled and the steam is passed over the whole body for 10 to 20 minutes. Latter the body is cleaned in medicated lukewarm water. This treatment rejuvenates the body and delays the aging process. Skin becomes youthful and glowing.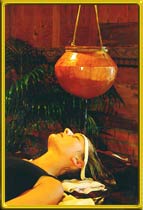 Pizhichil: For rheumatic diseases, back pain, sexual weakness, nerve weakness, etc.
Dhara: For insomnia, headache, and etc.
Vasthi: - For gastric complaints, gas trouble, constipation, etc.
Sirovasthi: - For headache, migraine, peenasam, etc.
Snehapanam - For psoriasis, skin diseases, etc.
Kizhi: For osteoarthritis, arthritis swelling, spondilosis, sports injuries, etc.